Complete solution for Internet billing, download limiting, time and bandwidth management, ISP billing, hotel Internet, free WiFi.
First Choice of Professionals
Control Smartphones, Tablets, Laptops
Control any connected device on your WiFi network. Force customers to sign-in or pay on the login screen. Configure the number of user devices that can access the Internet.
Manage Bandwidth, Download and Upload
Limit download and upload speed for each customer device. Set maximum available bandwidth quota. Sell high speed access for an additional fee, or save more bandwidth for VIP customers.
Order a lifetime license without subscription and install software on your own server. Offer free WiFi or collect payments with one of the 70+ payment gateways
Use Your Own WiFi Hardware
If you already have access points, there is no need to change it. Our software works as a gateway with any hardware. You just have to route all devices through hotspot server running our software.
Decrease speed for expired users
Reduce download and upload speed for guests that consumes too much bandwidth. If limits are reached, guest will be switched to lower speeds preventing overuse and still providing basic service.
WiFi Access Point monitoring
Control and track Access Points and connected devices. When AP fails, the WiFi Hotspot App will send you a SMS & email report so you can react and resolve issue with device and prevenet downtime
Speed boost at off-peak hours
Boost WiFi speed in selected happy-hours or slow times to deliver faster Internet access and increase guest satisfaction. You can select desired daytimes when speed boost is active
Automatic reports sent to Email
All actions are monitored and tracked from the WiFi Hotspot app. For owner and administrators the Hotspot can provide all reports to desired Email address.
Creating Your Hotspot is Easy
You need a PC with two network cards which will run as a gateway for your network. Customers are redirected to your self-branded login page to sign-in or pay before getting the Internet access, or automatically login with remaining quota and time.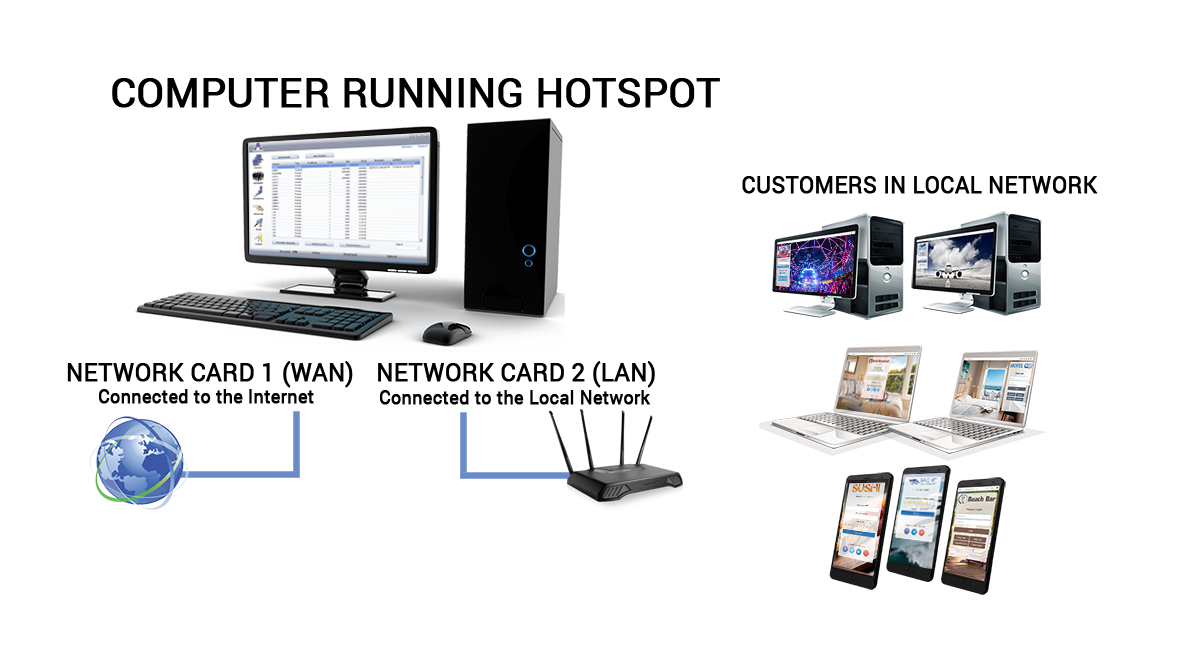 Allow login with a keyword, social network account or collect user data. Configure limits like free access time, bandwidth, daytime, daily & monthly logins, expiration and pause between sessions.
Install Hotspot software on your Windows PC and control different locations within your premise like restaurants, retail stores, coffee shops, each with it's own custom branded pages and different limits
Create tickets, free or user/pass accounts and assign configurable Internet plan limits: download/upload, time and bandwidth, daily or monthly limits, number of logins, expiration, multilogin, autologin, inactivity
Web self-care application helps customers check their status, download and upload limits, remaining bandwidth and time, expiration, and update personal information or upgrade Interent plan
Set Your Own Internet Plans
You decide how to provide Internet access. Charge by data transfer, time usage, or download and upload rate. Set pricing profiles and customer refills.
Accept credit card payments for your WiFi service using any of the 70+ major payment gateways including PayPal. Credit Card Payment Module can be purchased for any edition.
Connect HotSpot with over 30 Hotel PMS software including Opera, IDS, Medallion, Protel, InnQuest. The interface helps your guests sign up for the Internet access and post charges to the room.
Easily share your Internet connection (WiFi HotSpot NAT) to all smartphones, tablets, computers and devices in your network and start providing the service immediately
Who is Using Windows WiFi Hotspot App?
Manage Your Guest WiFi with WiFi Hotspot App
Real-time Statistics and Reports
Know all your hotspots statistics and usage including who is using it, how long, and what they are doing. Easily check time usage, bandwidth, logins and sale reports with included graphs
Watch Online Customer Activity
Real time customer activity shows download, upload, remaining data transfer, time usage. Activity is updated each second for each customer account, IP and MAC address.
URL Logging of Visited Websites
Create logs of URL addresses that customers visit to comply with anti-terrorism laws. HotSpot logs customer username, IP, MAC, date and time, and URL address
Block Websites with 2.5M Domain Web Filter
Block or redirect unwanted websites from being accessed on your hotspot, based on predefined 90 categories like adult, drugs, weapons, gambling, phishing, violence, virus infected etc.
Easily create new accounts in Operator mode: select a plan, set the number of accounts and click generate. Suitable for front desks, hotel receptions, and novice operators
Manage Multiple Hotspot Locations
Connects all your hotspots in one network and use the same database. Your customers are able to use remaining time and bandwidth in any of the Hotspot Wifi locations
Easily generate accounts and perform various tasks with Hotspot API (HTTP GET query and XML response), which offer very short integration time.
Whitelist websites, MACs and IPs
Whitelist desired websites to allow browsing without authentication. Grant Internet access to selected devices (identified by MAC or IP) to pass-through the Hot Spot software
Automatically login users to increase satisfaction. After first login, WiFi Hotspot app will collect device MAC address and customer will be connected to the internet automatically
Configure automatic redirection after a successful customer login. Use it to redirect customer to desired website, a special promo offer, or Facebook profile
Allow WiFi loggin with social network like Facebook, Twitter, LinkedIn, Google, and VK. Use collected data and Emails for marketing purposes and Email follow-ups
Email marketing campaigns
Automatically send Email marketing campaigns: send welcome emails on signup, promo email after 2 days, reminder after a week. Offer upgrades, special promotions, all automated.
Collect customer data using Social login or signup form that may collect: name, email, phone, address, etc. Those details can be used for automated email campaigns from the WiFi Hotspot app and to promote service, or new products.
Set-up software to send e-mail messages to your customers to remind them about the account expiration, a payment receipt, a newsletter or service maintenance
Offer coupons to customers who wants to take advantage of sales promotions at retail stores. Display coupons on the welcome page in exchange for customer name and E-mail.
Print your own WiFi voucher tickets
Print bulk accounts, tickets, refills and receipts using customizable templates. Tickets can be printed in advance with PC WiFi HotSpot app and distributed to various sales locations
Collect surveys to increase guest satisfaction
Advanced customer survey system helps you collect guest feedback, prevent dissatisfaction, increase Trip Advisor and other review site rankings
Antamedia Help & Support Center