Complete solution for Internet billing, download limiting, time and bandwidth management, ISP billing, hotel Internet, free WiFi.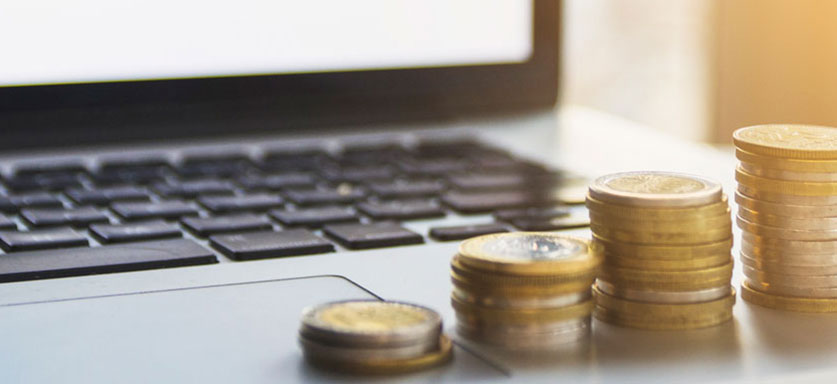 You supply the location, the equipment, the Internet access and the customers.
Why should you give your profits to someone else?
We can't understand why so many companies insist on renting out their software or holding it on their own servers?
At Antamedia we have supplied cyber cafe and WiFi hotspot software to individuals and companies all across the globe. We know that a big part of our success has been the success of the people helped by our software.
Yes, we offer extra licensing if you need more operators because your business has grown, but we'd never poke you in the eye by making you pay for the same thing twice, or demand a percentage of your profits!
Antamedia's Hotspot Billing, our popular WiFi management software, is installed on your own computer. The idea of the software is to give YOU complete control over all aspects of your Internet service.
You get much more than just the ability to set pricing. You get to choose how much bandwidth, at what speed, when, for how long and lots more, because it's YOUR business.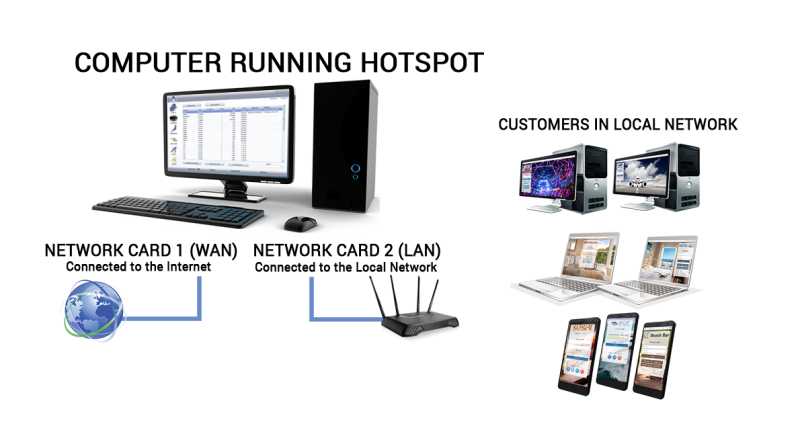 That's the whole point, isn't it?
Here's how Hotspot software works:
Controlling your WiFi with Hotspot Billing
First, you just add another network card to a plain Windows PC, then install the software. Installing is made simple with an easy Windows "wizard".
You then need a reasonably decent Internet connection.
Hotspot acts as a central gateway, using one network card for the Internet, the second one for your customers.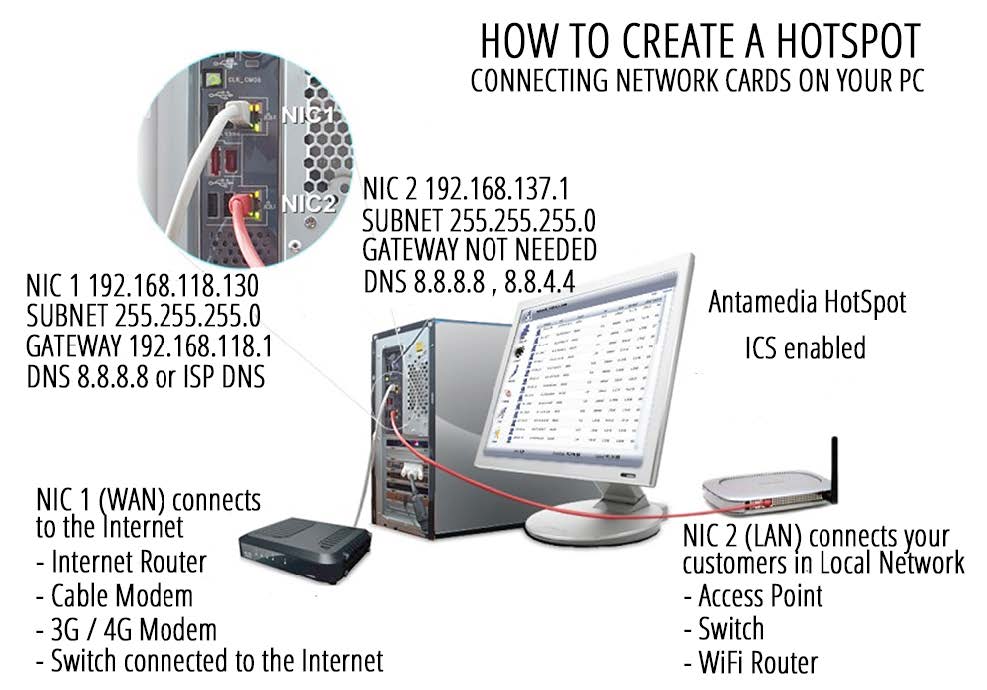 You now choose what type of accounts to create. Do you want to offer both free and perhaps premium paid access? No problem. Three different levels of paid access? Easily done.
Using the very simple tabbed control panel, you create an "account" type, then configure the settings for it. Such settings include thing like the maximum volume of data or the fastest speed of your customer's connections, at that account level.
The bandwidth limit is configured in Kilobytes per second for each user account separately and represents the speed of customer connection to the Internet. You can sell high bandwidth accounts for additional fee or save more bandwidth for VIP customers. Data transfer is configured in megabytes (MB) for every account and represents the total amount of traffic available to each customer. Your Internet service provider (ISP) may refer to both speed and volume as simply "bandwidth".
Hotspot monitors all activity and work loads, intelligently distributing resources among your customers within the limits you've set. You just set your rules based on your resources available and Hotspot controls everything for you.
How it works for your customers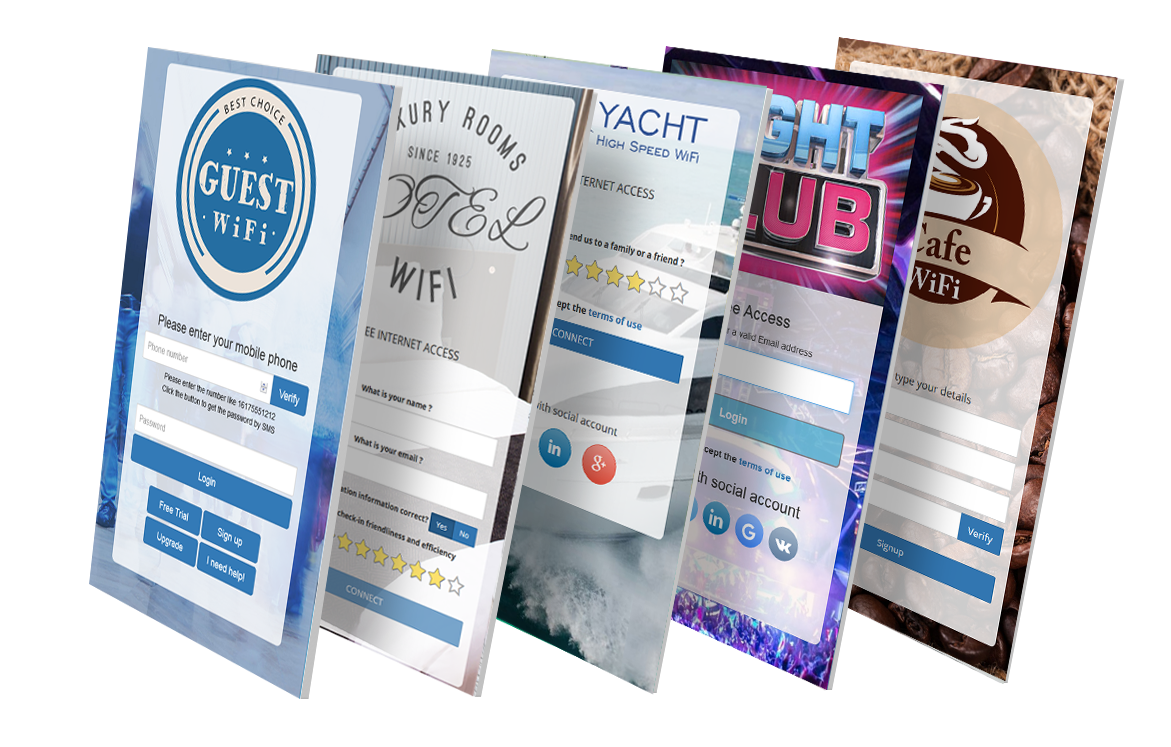 Now you're all set up, anyone connecting to your network will get your login page loaded in their browser upon request for any URL. We offer a number of different login templates that you can choose from, or customize, to suit your business brand.
Upon reaching your login page your customer enters their valid Username and Password. After successful login, their session will be limited by the account properties you set when you created that type of account.
What if your customer doesn't have an account? How do they get one?
Well you explain how on your login page but in essence you (or your staff) can issue accounts directly, using Hotspot's control panel, or your customers can sign up and pay directly from that login page. All major Internet payment gateways can be used, including credit cards or Paypal.
The payment process is completely automated, with no staffing required if your customers use your custom login screen. Customers are able to choose their own usernames and passwords, then select from your pricing plan (like one Hour Internet time or one month unlimited access, or whatever you offer).

When your customer runs out of time, extra minutes or hours can be added to that already present account, the same applies for bandwidth volume. Additional Megabytes are specifies in blocks, such as 1 MB costs $1.00, 5 MB costs $3.00 etc.
If your customer uses their bandwidth quota but still has time left, additional bandwidth can be ordered.
The profits you make from paid accounts are 100% yours.
A Different Type of Account for Staff
At the heart of a growing business is developing the ability to delegate tasks to others. For this purpose Hotspot makes it easy to set different account levels for employees as well as customers.
You have total access to all settings but you can set up restricted Operator and Manager accounts, meaning you can leave staff to wait for customers while you get on with the bigger stuff. Operators only have the easy 3 step process for issuing new accounts and cannot change your settings.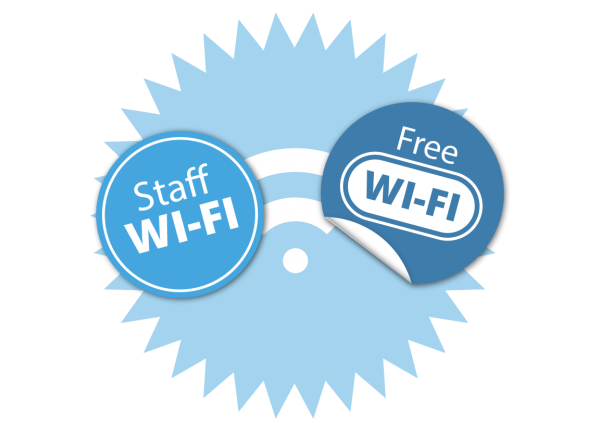 You have also detailed logging that tells you what both your staff and customers have been doing while you're away. It's even possible to run your top-level Administrator account remotely, from another office or even from home!
Hotspot's advanced features
We like to think Hotspot Billing is popular because of our robust programming, simple control panel and free technical support, along with great value of course. Sometimes though, people just want certain features.
Here's some of them:
Restricting how long someone can use your hotspot is important, even if you're giving them free access. We also understand that for many businesses it helps to also control when they can use it.
Any flexible arrangement you want is easily set with your control panel. If you wish to offer a "happy hour", perhaps free WiFi at lunch time, different rates at weekends or paid customers only after 5pm, you can do so. You can also set expiry dates.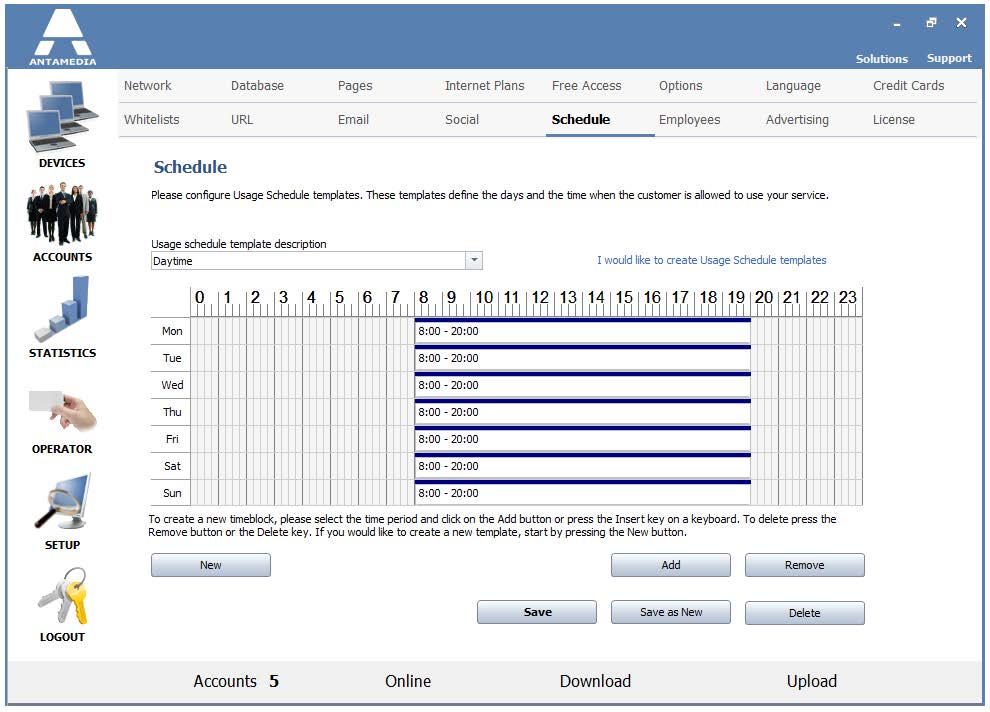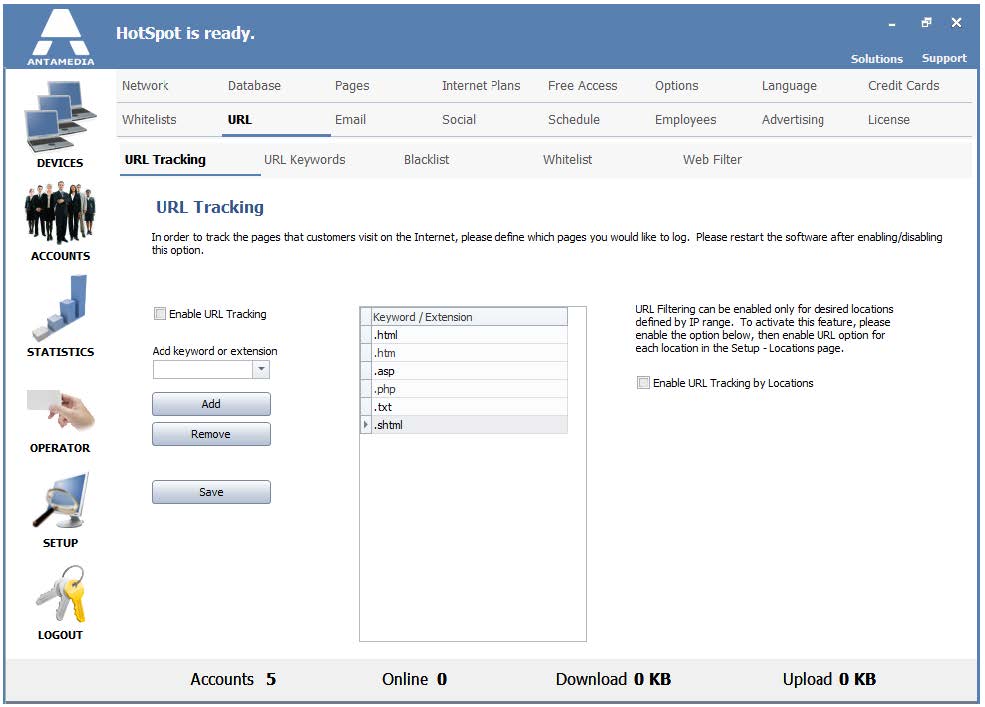 Is your business a "family friendly" one? Depending on your needs, Hotspot can create a log of all URL addresses that your customers visit, together with their username, IP, date and time, and even the notification if the access was allowed or blocked.
This is a very useful option to see exactly what you need to set in your URL filtering if you want to block access to some sites, by using keywords.
It also means you have records should you face any form of investigation over Internet activity via your WiFi hotspot.
There are more features than we can mention here. The important bit is that all of Hotspot's features are easy to use. To see for yourself, download your free trial from the link below, which you can install on any PC in order to examine your new control panel.
If you like what you see, and we're sure you will, you could be offering your customers WiFi Internet access this afternoon!
It really is that easy.
Click the link to download:
Antamedia Help & Support Center