Complete solution for Internet billing, download limiting, time and bandwidth management, ISP billing, hotel Internet, free WiFi.


WiFi HotSpot Software For Professionals
Your Complete Software Solution
Not all hotspot software is created equal.
Below is why Antamedia's HotSpot is the first choice of professionals, with 3X more global users than our nearest competitor:
From being easy to set up with the friendly Windows control panel, to the option to develop into a full ISP for regular local clients, HotSpot has you covered.
At every point of customer contact it shows your brand, not ours. No ongoing leasing or costs means you effectively own it, keeping 100% of your profit, plus you're not reliant upon an external web-based service.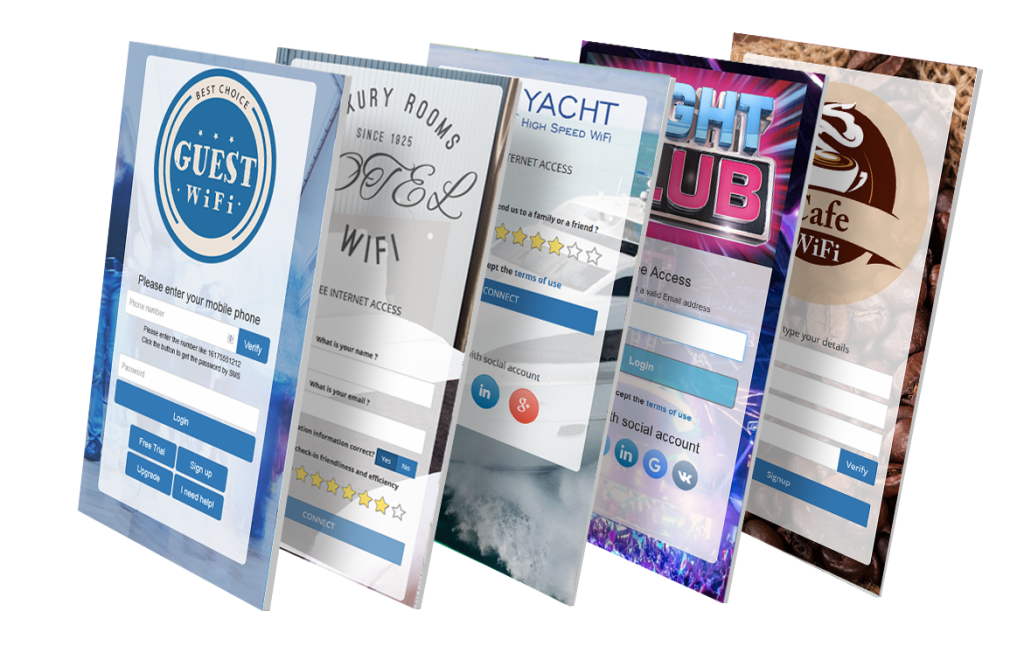 In short, you keep it on your own hard drive, you keep your own profits and you keep your own branding. No compromises.
Download/Upload Rate Control (Traffic Shaping)

Bandwidth Quota Control (Traffic Management)

Multiple Location Support

Smartphones and smart devices support

Large Number of Simultaneous Connections

Automatic E-mail Notifications
Secure Login or Autologin

Block or redirect by Website or URL Keywords

Host, MAC and IP Whitelists

Language Editor, 12 languages included

Flexible licensing; grow at your own pace
Set different levels of Customer Accounts

Employee Accounts; Admin, Manager and Operator

Integrates with other billing software

Secure HTTPS Server included free
Logs General HotSpot Activity

Statistics Available in Chart and Table View
If you're new to running your own WiFi hotspot and unfamiliar with some of the terms above, or why they're important to your success, download the HotSpot brochure to learn more.
The setup wizard and free technical support make switching to Antamedia easy to do; you could be enjoying its power today!
How Antamedia HotSpot Works: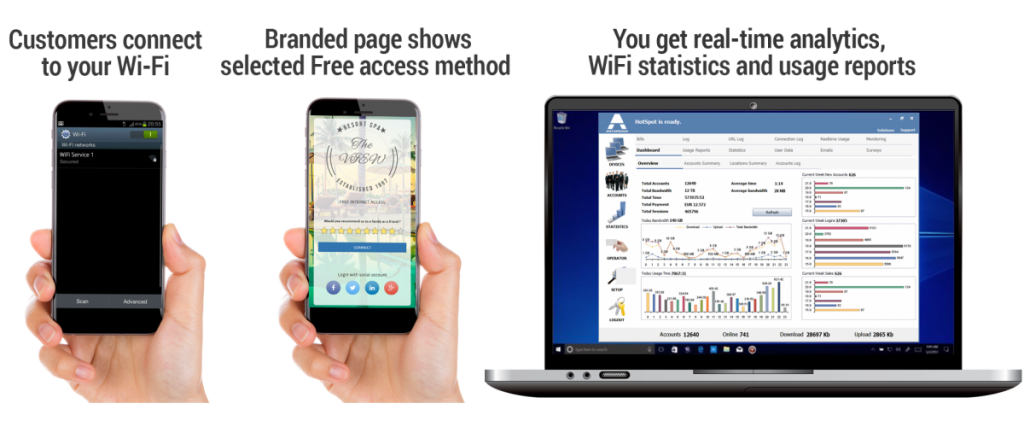 Customer's of your business are provided with a user name and password, which can be free or you can charge. Hotspot handles all elements of this for you, including billing and accepting credit cards, or you can integrate with your existing system. Your customers never need to install any special 'client' software.
Upon accessing your hotspot, your customer is automatically redirected to your self-branded login page. They enter their details and Internet access is granted, with Hotspot controlling the duration, speed and bandwidth by their account level or payment.
A fine degree of control is available at every stage, including features not available in Linksys or similar 'firmware' hosted solutions, such as tracking or re-directing certain URLs.
The power to easily integrate with other software, such as hotel Internet booking or airline ticket systems, has made HotSpot popular with larger corporations. Extreme flexibility and ease of use make it even more popular as the perfect off-the-shelf solution for smaller operations. If your current WiFi hotspot billing or ISP billing software cannot match the features below, it's time to switch.
If you wish to keep your Hotspot empire inter-connected and centralized, you need only a single license, currently available as a once-only $199.00 USD.
Remember, there are virtually no limits to your number of connections, no ongoing license or leasing fees and you're keeping 100% of the profits!
A live Hotspot installation works happily on any standard Windows PC, requiring only an extra network card. Even with a single card you can download and try out the free trial, exploring your simple but very comprehensive and tabbed control panel.
Download right now and see for yourself why IT professionals choose Antamedia:
Antamedia Help & Support Center