Complete solution for Internet billing, download limiting, time and bandwidth management, ISP billing, hotel Internet, free WiFi.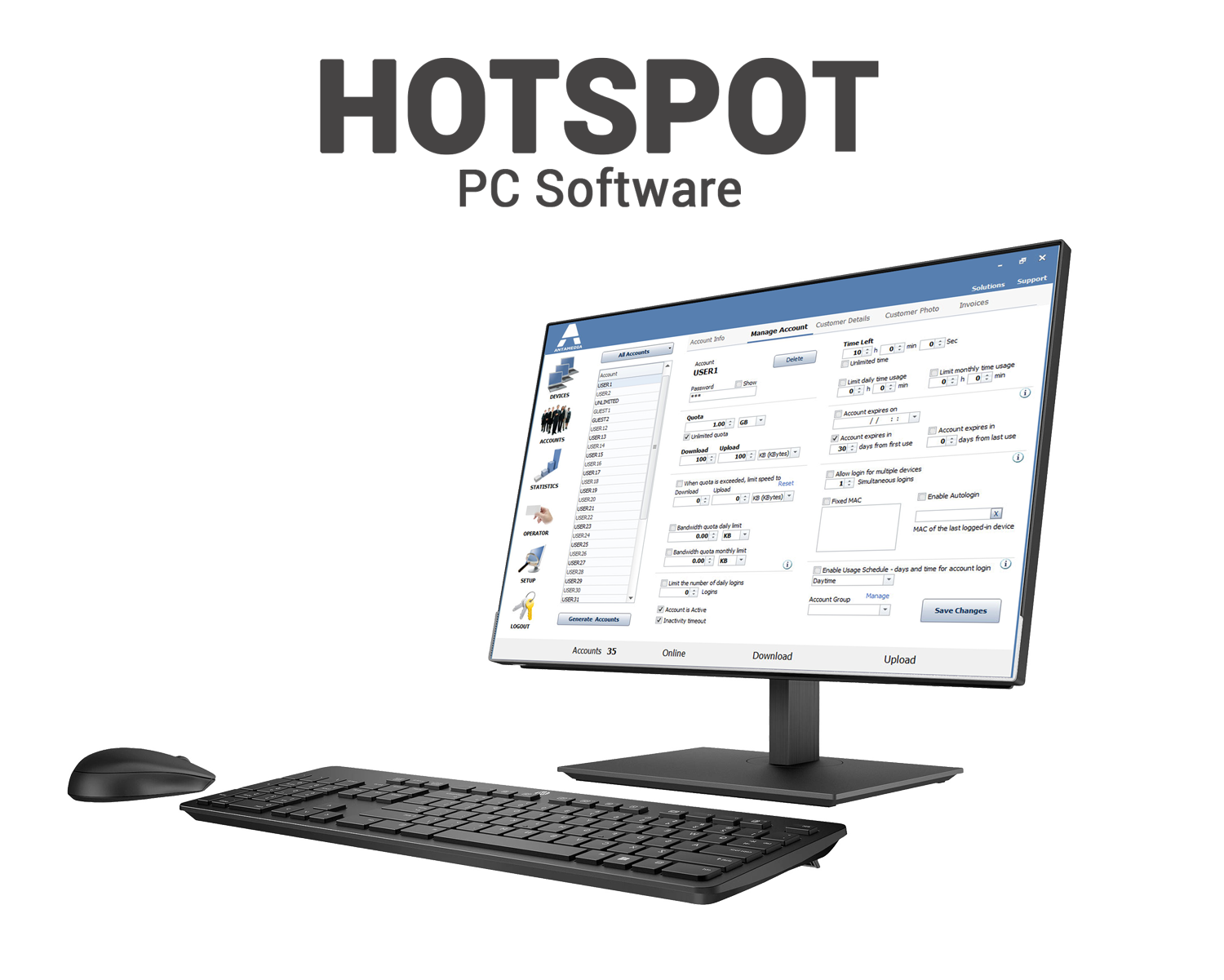 Antamedia HotSpot is the first choice of professionals, with 3X more global users than our nearest competitor.
From being easy to set up with the friendly Windows control panel, to the option to develop into a full ISP for regular local clients, Antamedia ISP Billing Bundle has you covered.
At every point of customer contact it shows your brand, not ours.
No ongoing leasing or costs means you effectively own it, keeping 100% of your profit, plus you're not reliant upon an external web-based service.
Everything you need is at your fingertips with Antamedia's control panel, which you can access remotely as your business grows. As you can see below it's designed for business, not geeks.
Easy and simple tabbed layout ensures you're never stuck.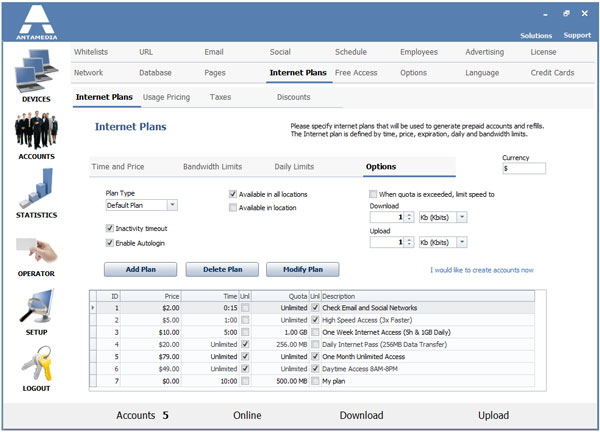 In short, you keep it on your own hard drive, you keep your own profits and you keep your own branding.
No compromises!
Hands Free And Scalable At Your Own Pace
Antamedia's ISP Billing Bundle can control almost unlimited connections across different locations.

This means your Internet Service Provider (ISP) empire can spread across town, into other cities, even across national borders, all powered by Antamedia and owned outright by you.
You can start as a single operator with minimal outlay, running the business yourself. It's an easy life; you just keep an eye on things as your customers mostly serve themselves. This is made extra easy because as your business grows you don't even need to be there!
Everything you need is at your fingertips with Antamedia's control panel, which you can access remotely as your business grows. As you can see below it's designed for business, not geeks.
You're further covered for future growth, because Antamedia Hotspot is hardware independent, so you're not locked into any one system and won't be caught flat footed as technology advances.

Hotspot will share your internet connection amongst your customers, meaning all Internet activity can be channeled through a single and easily controlled gateway.
Complete Bandwidth Management
Your software has our famous bandwidth management system integrated directly into the design. This makes it simple to assign both the speed of data transfer and volume (bandwidth) of connections allowed for different types of account. Despite its advanced abilities this bandwidth management feature requires no additional hardware.
That means you could spread your resources wide and evenly, or create different account levels. For example, slow speed and free for normal customers, high speed for paid users, or perhaps different levels of account for your staff, hotel guests and members of the general public in your restaurant.
Hotspot also gives you "time templates" for different accounts, so for example you could give hospital patients 24 hour access but restrict guests to visiting hours only. What all this means is however you decide to allocate capital for speed, bandwidth and equipment to suit your unique business, you'll never be tied in, tied down or faced with unexpected bandwidth costs. That's good to know.
You'll also be pleased to know Hotspot is designed to easily integrate with any 3rd party software you may be running now or later, such as your own accounts system, your hotel booking software etc.
Just Some of Hotspot's Features:
All these features and more are explained in Antamedia Help & Support Center.
Setup Wizard
Large Number of Simultaneous Connections
Employee Accounts, admin, manager and operator
Download and Upload Rate Control (Traffic Shaping Management)
Bandwidth Quota Control (Traffic Quota Management)
Multiple Location Support
NAT (Network Address Translation)
Accepts Credit Cards
Language Editor
Secure Login or Autologin
Optional Free Login
Customer Data Collection
HotSpot Activity Log
Statistics Available in Chart and Table View
Usage Scheduling
IP and Port Filtering
Block or redirect by Website or URL Keywords
SMTP Roaming
URL Filtering
URL Tracking
Host Whitelist
MAC and IP Whitelist
Automatic E-mail Notifications
Remember, there are virtually no limits to your number of connections, no ongoing license or leasing fees and you're keeping 100% of the profits! A live Antamedia ISP Billing installation works on a standard Windows PC, requiring only an extra PCI network card.
Antamedia ISP Billing Software Bundle consist of:
• Antamedia HotSpot Enterprise Edition – Unlimited concurrent customer connections
• Credit Card Billing Module – support for more than 70 credit card payment gateways
• Additional Operator license for front desk or remote office. It will help you to generate, modify, refill or delete accounts from a remote computer
If you wish to keep your ISP (WISP) empire inter-connected and centralized, you need only a single license, currently available as a once-only $799.00 USD.
We don't pretend Antamedia HotSpot is "free" but we are confident it is the best value and there's no charge for expert technical support.
Antamedia ISP Billing Bundle helps you easily run and manage your ISP – WISP, backed-up with professional features and branded with your company's identity.
Download right now and see for yourself why more IT professionals choose Antamedia:
Antamedia Help & Support Center